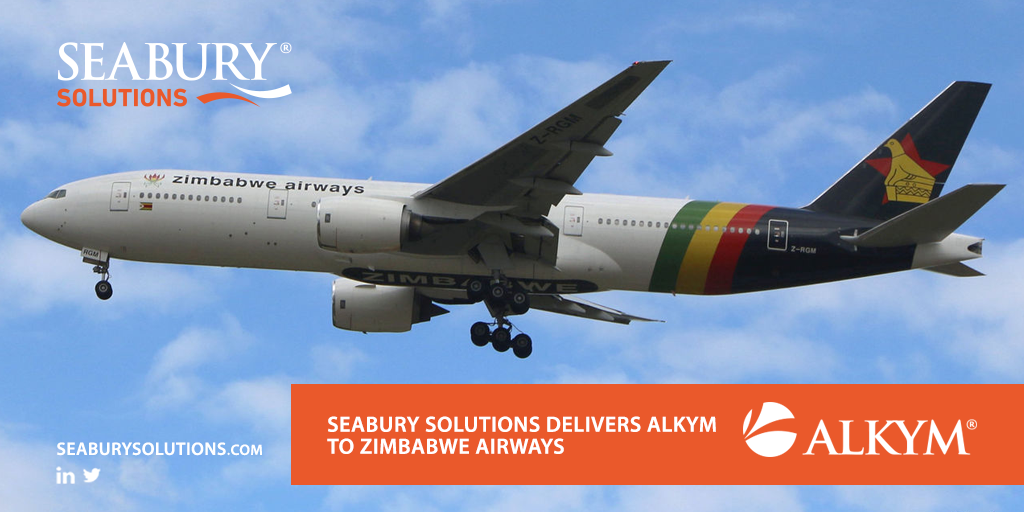 The Company's MRO IT Solution Will Support Zimbabwe's New Start-Up Airline's Anticipated Growth and Assist in Ensuring its Safety Standards
NEW YORK – Ocrtober 2, 2018 – Seabury Solutions, a subsidiary of New York-based Seabury Capital Group LLC and the market leader in providing Information Technology solutions for the aviation industry, announced today the addition of the Republic of Zimbabwe's new start-up airline, Zimbabwe Airways, to its growing customer base in Africa's rapidly developing aviation market.
The airline will begin the certification process with the aircraft, under control of Alkym®Management and Control System for Aircraft Maintenance, with Its first of the four new Boeing 777 aircraft landing in Herrera already having its data loaded into Alkym.
"Working with new start-ups is key to building our customer base and something that brings great pride to see them grow with our solution at their core," said Seabury Solutions SVP, Head of Sales & Marketing, John Barry.
Zimbabwe Airways have selected to use the full Alkym suite and will phase it into the operation as it grows and matures. With the new Mobile platform, Alkym brings its current module list to eighteen.
Captain Simba Chikore, CEO Advisor with Zimbabwe Airways, commented: "Our projected growth plans were set in motion many months ago. We sought to work with the best in the business on all aspect of the organization. No higher priority could be assigned to the safety of our operation. Working with Seabury Solutions ensured we had proven leaders in the field of Technical Operations. Alkym meets our requirements specification. However, for us it was the people we dealt with in the process that assured us we made the right decision."
ABOUT ZIMBABWE AIRWAYS
Formed in 2018, Zimbabwe Airways has two Boeing 777 aircraft delivered from a total of four aircraft ordered in the long-haul fleet, as well as the first of five Embraer E175 jets in the narrowbody fleet in situ. It will operate from its main base in Harare, the Republic of Zimbabwe.
ABOUT SEABURY SOLUTIONS
Seabury Solutions is a subsidiary of Seabury Capital LLC and the market leader in providing Information Technology solutions for the aviation industry. With more than 15 years of experience and specialization in the development and implementation of world-class software solutions for aviation, Seabury Solutions has an unmatched reputation as a provider of cost-effective solutions in the industry. Three out of the four largest airlines in the world use the performance management systems built by Seabury Solutions. www.seaburysolutions.com
ABOUT SEABURY CAPITAL GROUP
Seabury Capital Group LLC ("Seabury Capital") operates a number of specialty finance, investment banking, technology and software companies with a core focus anchored in aviation, aerospace & defense, maritime, and financial services & technology. Since its founding in 1995, Seabury Capital has taken ownership stakes in software and asset management businesses servicing the aviation and travel industries. Within the last few years, Seabury Capital has expanded its portfolio by investing in early stage startup companies within the financial technology industry and structured investment products. In addition, Seabury Capital owns and operates FINRA and FCA regulated investment banking services firms in the U.S. and U.K., respectively, serving external clients as well as assisting the companies in which Seabury Capital has invested. Seabury Capital has operations in New York, Amsterdam, Berlin, Chicago, Cordoba, Dallas, Dublin, Durban, Edison (NJ), Hong Kong, Houston, Jersey City, London, Los Angeles, Manila, Minneapolis, Singapore, Summit (NJ), Stamford (CT), and Tokyo.www.seaburycapital.com