Restructuring, Turnaround & Investment Banking Capabilities
Leveraging Seabury Capital Group's 25-year history of advising hundreds of key clients in the airline, aircraft leasing, OEM, and defense supply chain, Seabury Securities is the industry's leading practice delivering global investment banking and restructuring capabilities focused on Aviation and Aerospace & Defense.
Our award-winning team with global access is led by a large senior leadership team with over 25 Managing Directors and Directors, boasting superior industry knowledge along with best-in-class analysis, technology, and solutions, as well as unmatched depth of relationships with decision makers in industry, finance, and government.
Senior Leadership Team
Our leaders are pioneers in aviation and aerospace with decades of executive leadership, deal making, and problem solving experience.
Multifaceted Functional Capability 
Our team of experts has led 13 of the top 20 airline transformations as the sole restructuring advisor. Our professionals have deep expertise in lessor restructurings, helicopter operators, aerospace supply chain turnarounds, and maritime transformations, having conducted the restructuring of over $100 billion of obligations.
Restructuring & Turnaround Expertise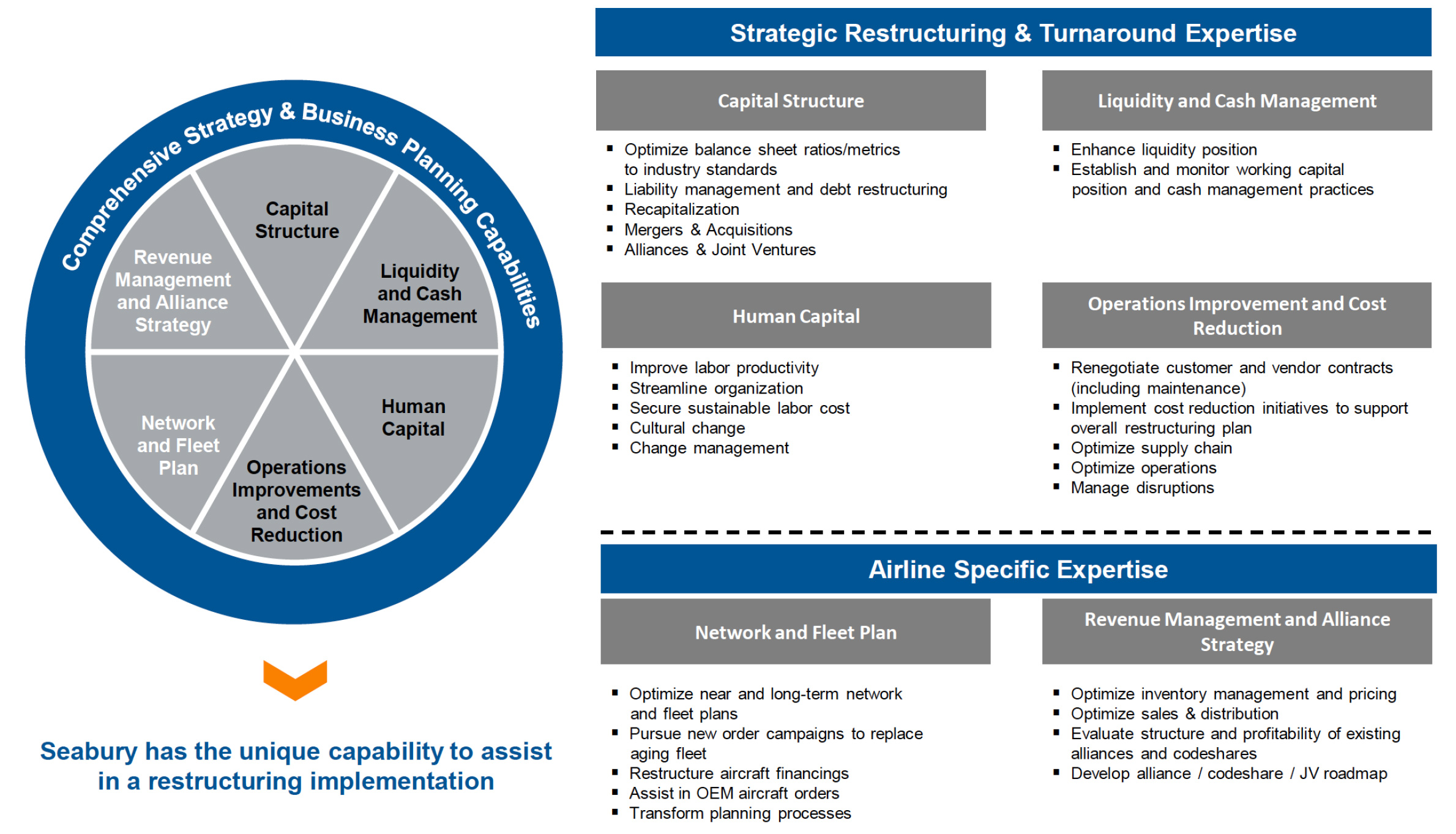 Through the alliance between Seabury Securities and Seabury Consulting (now part of Accenture), we deliver a full spectrum of value added services to assist industry in restructuring, turnarounds, cost control, M&A, and other strategic initiatives. 
Strategy & Business Planning
Review and redefine airline strategy and vision given current market conditions
Develop a corresponding new business and financial plan
Manage corporate turnaround
Capital & Debt Raising / Liquidity & Cash Management
Secure capital to finance business plan, including private debt and private & public equity
Facilitate aircraft financing
Enhance liquidity position, and establish cash management practices
Aircraft Commercial Strategy: Fleet, Network, Revenue
Review current network and schedule and rationalize as necessary
Optimize selection of aircraft to match network plan and growth strategy
Improve revenue management
Cost Reduction
Achieve best in class cost position: maintenance, airports, distribution, catering and other key cost areas
Implement a cash conservation/working capital improvement program
Institute a cash management program
Labor Transformation
Implement organizational redesign
Identify, recruit, manage and retain talent
Advise in labor negotiations
Ancillary Businesses
Review ancillary business strategy: Cargo, MRO, Catering, Ground Handling, Frequent Flyer
Develop full potential plan
Evaluate M&A or commercialization/sale opportunities
Partnering/M&A Strategy
Conduct due diligence on potential acquisitions
Identify, solicit and filter potential buyers
Coordinate deal process
Manage the post merger integration process
Asset Financing Expertise
Our team provides unbiased advice in structuring and restructuring of debt facilities and leases, as well as assistance in originating and executing sale leasebacks, cross border tax leases, JOLCOs, export credit, bank, direct lending, insurance debt, and PDP financings.
Fleet & Financing Strategy
OEM Negotiation
Lease vs. Buy Analysis
PDP Financing
Long Term Debt Financing
Lease Renewals & Buyouts
Fleet Monetization & Disposition
Seabury Capital delivers diversified and responsive business solutions to clients across many industries