Seabury Capital's Seagle Payment Solutions to Exhibit at Agent Summit 2018 in Las Vegas
Company's New Leadership to Showcase Zero Interest Payment Plan Solution for Dealerships that Increases Volume and Profitability of Service Contract Sales        
LAS VEGAS – May 9, 2018 – Seabury Capital LLC ("Seabury Capital") announced this week that a delegation of representatives from its Chicago-based business unit Seagle Payment Solutions, a leading provider of payment plan servicing, will be exhibiting at Agent Summit 2018 at the Venetian & Palazzo Resort Hotel Casinos in Las Vegas, May 20–23.
"We are very excited to return to Agent Summit to showcase our payment platform, providing a zero interest payment plan solution for dealerships looking to increase volume and profitability on their service contract sales, and enabling private label," said Clarence Townsend, Vice President, Seagle Payment Solutions. "Under new management, we look forward to reconnecting with existing customers and reaching out to prospective clients."
The industry's only event designed by and for automotive general agents and agent principals showcases a wide range of products and services, with an eye toward the issues facing agents today, including F&I training and development, agency-building, and new technology.
Seagle Payment Solutions combines the business foundation of a payment service processor with a national footprint under Seabury Asset Management, a subsidiary of Seabury Capital, headquartered in New York City with offices worldwide. Seabury Capital operates a number of specialty finance, investment banking, technology and software companies with a core focus anchored in aviation, aerospace & defense, maritime, and financial services/technology.
"Agent Summit has always been an important event for our company," added Margaret Chan, Chief Executive Officer, Seabury Asset Management. "Since the acquisition from Independent Bank Corp a year ago, we have been growing, improving with new technology, and evolving with the support of the industry participants. Adapting to agents' needs and discovering new ways to increase their sales' volume and profitability are our top priorities. This event provides us the ability to reach our targeted audience and cultivate relationships with agents in an environment where we can showcase our comprehensive offerings."
Representatives of Seagle Payment Solutions will be available to speak with all interested parties during the exhibiting days at Agent Summit 2018 at booth number: 608. To schedule a private meeting with the company, please email info@seaglesolutions.com or call 844.309.6933.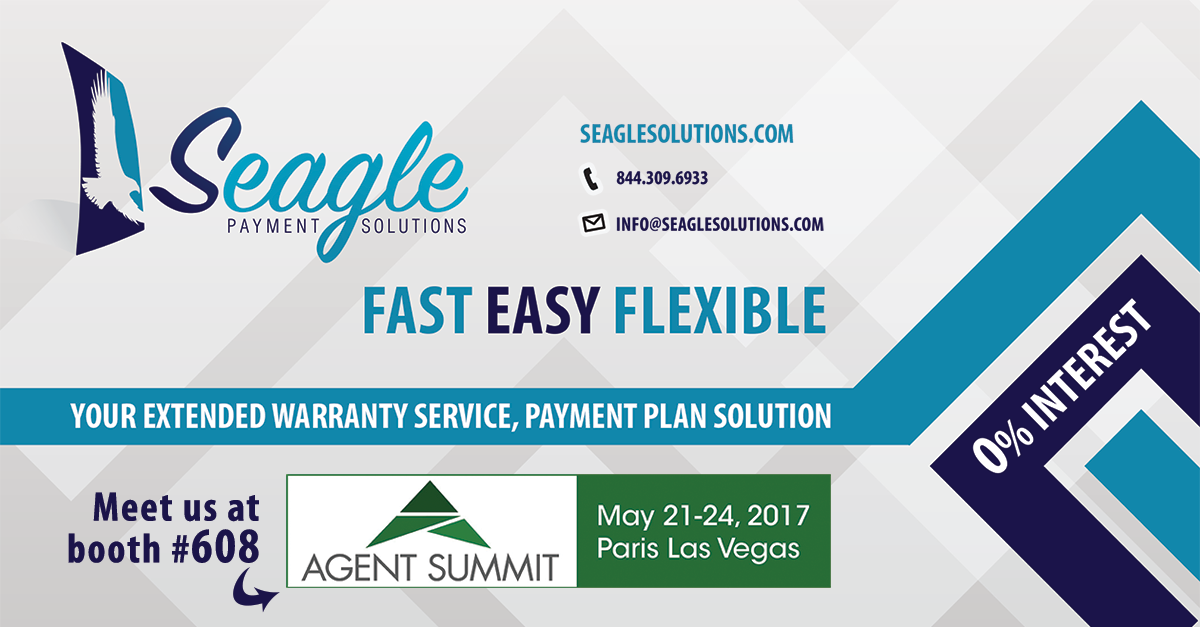 ABOUT SEABURY CAPITAL
Seabury Capital LLC ("Seabury Capital") operates a number of specialty finance, investment banking, technology and software companies with a core focus anchored in aviation, aerospace & defense, maritime, and financial services & technology. Since its founding in 1996, Seabury Capital has historically been the investment holding company of its founder, John E. Luth, operating as a venture capital firm with ownership stakes in software and asset management businesses servicing the aviation and travel industries. Within the last few years, Seabury Capital has expanded its portfolio by investing in early stage startup companies within the financial technology industry and structured investment products. In addition, Seabury Capital owns and operates FINRA and FCA regulated investment banking services firms in the U.S. and U.K., respectively, serving external clients as well as assisting the companies in which Seabury Capital has invested. Seabury Capital has operations in New York, Jersey City, Summit (NJ), Los Angeles, Minneapolis, Stamford (CT), Amsterdam, Berlin, Cordoba, Dublin, Durban, Hong Kong, London, Manila, Singapore, and Tokyo. www.seaburycapital.com