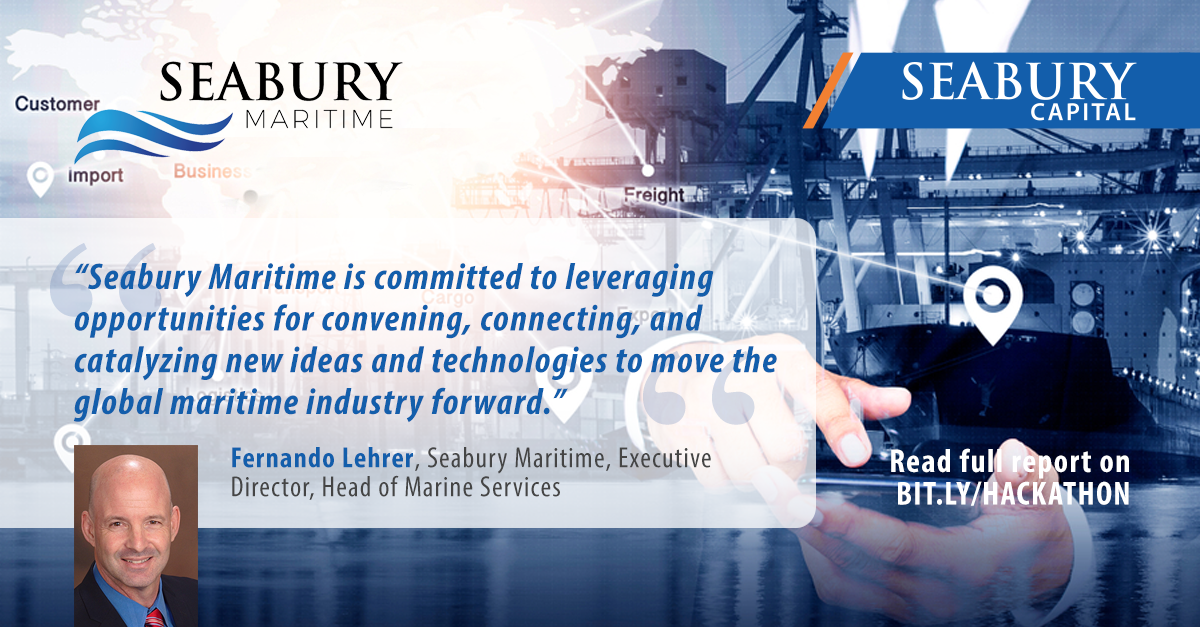 Seabury Capital's Maritime Subsidiary Sponsors NYC Maritime Hackathon 2019, Bringing Together Entrepreneurs, Investors, Maritime Executives, and Tech Leaders to Address Real-World Challenges Around Data
NEW YORK – March 26, 2019 – Seabury Maritime LLC ("Seabury Maritime"), the global maritime and transportation investment & merchant banking and industry advisory firm, a division of Seabury Capital Group LLC, today announced its partnership with the newly launched New York Maritime Innovation Center ("NYMIC") at SUNY Maritime College to host the NYC Maritime Hackathon 2019. To learn more about the hackathon, click here.
Held March 29-31, 2019 in New York, the hackathon will bring together entrepreneurs, investors, maritime executives,and tech leaders to address real-world challenges around data in the shipping industry, including Maritime Big Data, Cyber Security and Supply Chain Velocity, focusing on ports, logistics, and supply chain.
Fernando Lehrer, Seabury Maritime Executive Director, Head of Marine Services, noted: "Seabury Maritime has been focused on applying innovative solutions and technology to the maritime industry since its inception, and this event represents a rare opportunity for top maritime industry and tech executives to collaborate together to build prototypes and deliver rapid fire market validations for commercially viable technology solutions."
Participants, who include developers, designers, and domain experts, are to be judged by maritime executives on business potential and applicability for a pilot program, which will be supported by investors and entrepreneurs to enable them to grow their solutions for market-readiness.
Alongside Seabury Maritime, the hackathon is supported by a range of prominent industry institutions and companies, including: SUNY Maritime College, American Bureau of Shipping (ABS), Liberty Global Logistics, Shakti Software, DNV GL, Global Container Terminals, Hudson Trident, Cargotec, Matchback Systems, Spire Maritime, NY Tech Alliance, and Urban Tech NYC.
Back in May 2018, Seabury Maritime announced it joined the ranks of sponsors of the SUNY Maritime College Admiral's Scholarship Dinner. The company has been an active member of the SUNY Maritime community, aiding efforts to shape the next generation of shipping industry leaders.
Edward M.A. Zimny, Seabury Maritime President & CEO, added: "Through our continued strategy to provide an integrated platform to our clients that offers an end-to-end solution for their maritime-oriented transportation investment banking and consultancy needs, we are committed to leveraging opportunities for convening, connecting, and catalyzing new ideas and technologies to move the global maritime industry forward."
ABOUT SEABURY CAPITAL GROUP
Seabury Maritime is a subsidiary of Seabury Corporate Finance, which is a division of Seabury Capital Group LLC ("Seabury Capital"), which operates a number of specialty finance, investment banking, technology, and software companies with a core focus anchored in aviation, aerospace & defense, maritime, and financial services & technology.
Seabury Maritime is focused on global trade and transportation. Our team has developed a thorough understanding of the underlying competitive economics that drive strategic investments and decision-making, while assisting companies operationally to adapt for success and maintain sustained competitive advantage. www.seaburymaritime.com
Since its founding in 1995, Seabury Capital has taken ownership stakes in software and asset management businesses servicing the aviation and travel industries. Within the last few years, Seabury Capital has expanded its portfolio by investing in early stage startup companies within the financial technology industry and structured investment products. In addition, Seabury Capital owns and operates FINRA and FCA regulated investment banking services firms in the U.S. and U.K., respectively, serving external clients as well as assisting the companies in which Seabury Capital has invested. Seabury Capital has operations in New York, Amsterdam, Berlin, Chicago, Cordoba, Dallas, Dublin, Durban, Edison (NJ), Hong Kong, Houston, Jersey City, London, Los Angeles, Manila, Minneapolis, Singapore, Summit (NJ), Stamford (CT), and Tokyo. www.seaburycapital.com