Seabury Aviation Group and Seabury Airline Strategy Group Enlist Rob Gurney as Strategic Advisor
Former oneworld Chief Executive Bolsters Companies' Distribution, Technology & SAF-focused Capabilities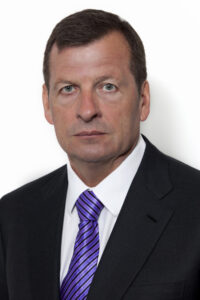 NEW YORK – October 9, 2023 – Seabury Aviation Group and Seabury Airline Strategy Group, Inc. (collectively, "Seabury") announced today the appointment of Rob Gurney as a strategic advisor as part of the companies' ongoing efforts to bolster Seabury's capabilities with respect to industry consolidation, digitalization, and sustainability credentials.
Gurney brings an extensive track record in the aviation, travel, technology, and tourism industries, having held senior executive roles with leading global airlines, such as British Airways, Qantas Airways, and Emirates, as well as having spent the past seven years at the helm of The oneworld Alliance, which comprises thirteen of the world's leading airlines. Gurney was also Chief Executive Officer of Australian Stock Exchange-listed Helloworld Limited, a multi-faceted travel and tourism business with operations in Australia, New Zealand, the United States, and Asia, where he undertook a major business transformation. Gurney has served as a board member of the Asian-based Tour East Group, which he chaired, Australia Tourism Export Council ("ATEC"), Tourism Western Australia, and Tourism & Transport Forum Australia ("TTF").
"Rob had several notable achievements in the CEO role at oneworld, in particular the expansion of the alliance to thirteen global airlines and a long-term agreement for over one billion gallons of SAF," remarked John E. Luth, Chairman, President, and Chief Executive Officer of Seabury Capital Group. "Both industry consolidation and sustainability are topics in which Seabury is already heavily involved, and Rob will play a critical role bolstering our advisory capabilities in these areas as well as others."
Rob Gurney, Seabury's newly appointed strategic advisor, commented: "Joining Seabury's premier global aviation advisory team is truly an exceptional opportunity for me to capitalize on my decades of experience in aviation and travel to assist the Seabury team to continue to build out its advisory practices, particularly with respect to pressing strategic questions of financial and environmental sustainability of carriers. I am energized by the opportunities opening up for Seabury and its clients around the world to take the next steps toward achieving such sustainability objectives."
"The role of a global alliance CEO is a unique strategic role in the industry, working with airlines, governments and other industry stakeholders, and Rob becomes the third former alliance CEO to join us in a strategic advisory role," stated Max Reilly, Senior Partner at Seabury Airline Strategy Group. "Rob's role in the digital transformation initiatives at oneworld and extensive commercial airline experience, including distribution and sustainability, are a great fit with us at Seabury Airline Strategy Group."
ABOUT SEABURY CAPITAL GROUP
Seabury Capital Group LLC ("Seabury") operates in over 20 countries on 5 continents in over 30 cities, several specialty finance, investment banking, technology, and software companies with a core focus in aviation, aerospace & defense, and financial services & technology. Since its founding in 1995, Seabury has executed more than 1,700 engagements for more than three hundred clients in over 65 countries, having advised on over $200 billion equity, debt, lease placements / restructurings transactions and $400 billion in aircraft orders (amounts in 2023 dollars equivalent).
Seabury has taken ownership stakes in software and asset management businesses servicing the aviation and travel industries.  Seabury has over $1.5 billion in assets and intends to leverage those resources to launch one or more specialized investment funds in aviation, travel, and technology in 2022, under a newly incorporated investment fund manager, Seabury Capital Management LLC.
Within the last few years, Seabury has expanded its portfolio by investing in early-stage startup companies within the financial technology industry and structured investment products. In addition, Seabury Capital owns and operates FINRA, NFA and FCA regulated investment banking services firms in the U.S. and U.K., respectively, serving external clients as well as assisting the companies in which Seabury has invested.
Seabury is headquartered in New York City, New York, USA, with professionals located in offices around the world. Reference Seabury at www.seaburycapital.com.