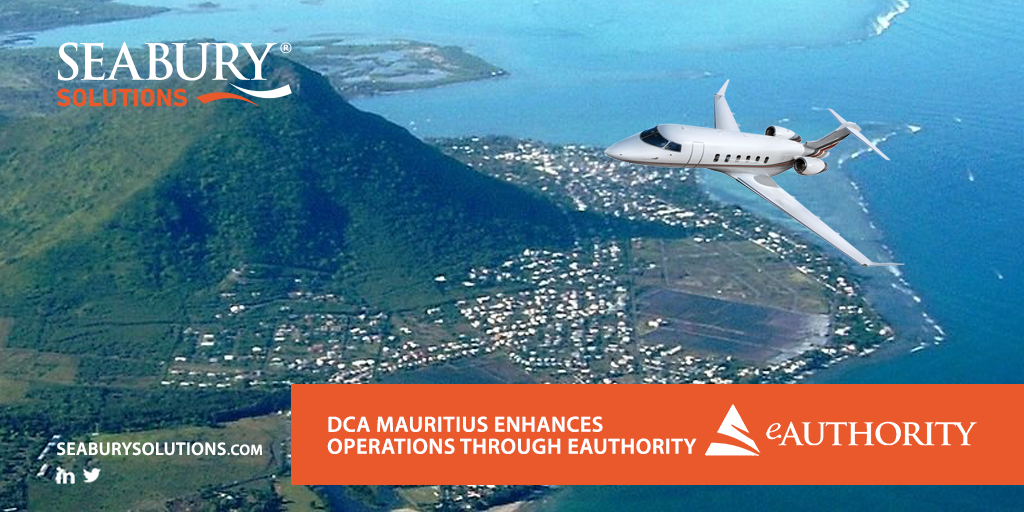 The Department of Civil Aviation Mauritius Utilizes the Company's Integrated System to Oversee Organizations, Aircraft, and Aviation Professional Certification and Licensing

New York – September 18, 2018 – Seabury Solutions, a subsidiary of New York-based Seabury Capital Group LLC and the market leader in providing Information Technology solutions for the aviation industry, announced today that the Department of Civil Aviation Mauritius ("DCA Mauritius") completed the implementation of the company's industry-leading, multi-platform integrated system, eAuthority.
Moving to a complete digital process and aiming for a paperless office, eAuthority will enable the department to oversee organizations, aircraft, and aviation professional certification and licensing. Inspired by ICAO, EASA and FAA regulations, the system is designed to increase efficiency of internal staff while giving real-time information to the management on a multi-platform dashboard.
John Barry, Seabury Solutions Senior Vice President, explains: "When DCA Mauritius began the tender process it was clear they wished to get ahead of safety risks. The tools they wanted to put in the hands of their people should give everyone in the organization access to the correct data. In this way it would be possible to improve operational processes, strive towards a paperless office but critically important to measure the success. eAuthority with its integrated modules would bring single source data with cutting-edge BI, BPM, and DMS."
DCA Mauritius ran a comprehensive tender process in 2017, which resulted in the selection of eAuthority, opting to implement eight of the 13 modules available to meet their current requirement. Among the implemented modules, DCA Mauritius selected the Aircraft and Organization oversight along with the complete SSP solution. In addition, each inspector can make more productive use of time via the inspection module with its mobile applications. With the configuration of the system and onsite training completed, the "go-live" took place in recent weeks.
ABOUT DEPARTMENT OF CIVIL AVIATION MAURITIUS
The Department of Civil Aviation Authority Mauritius ("DCA Mauritius") is responsible for the safety, regularity, affordability and efficiency of civil aviation operations within the territory of the Republic of Mauritius, and within the airspace under its responsibility. It is their aim to be recognized as the best regulator of civil aviation and the best provider of air navigation services in the region. http://civil-aviation.govmu.org
ABOUT SEABURY SOLUTIONS
Seabury Solutions is a subsidiary of Seabury Capital Group LLC and the market leader in providing Information Technology solutions for the aviation industry. With more than 15 years of experience and specialization in the development and implementation of world-class software solutions for aviation, Seabury Solutions has an unmatched reputation as a provider of cost-effective solutions in the industry. Three out of the four largest airlines in the world use the performance management systems built by Seabury Solutions. www.seaburysolutions.com
ABOUT SEABURY CAPITAL GROUP
Seabury Capital Group LLC ("Seabury Capital") operates a number of specialty finance, investment banking, technology and software companies with a core focus anchored in aviation, aerospace & defense, maritime, and financial services & technology. Since its founding in 1995, Seabury Capital has taken ownership stakes in software and asset management businesses servicing the aviation and travel industries. Within the last few years, Seabury Capital has expanded its portfolio by investing in early stage startup companies within the financial technology industry and structured investment products. In addition, Seabury Capital owns and operates FINRA and FCA regulated investment banking services firms in the U.S. and U.K., respectively, serving external clients as well as assisting the companies in which Seabury Capital has invested. Seabury Capital has operations in New York, Amsterdam, Berlin, Chicago, Cordoba, Dallas, Dublin, Durban, Edison (NJ), Hong Kong, Houston, Jersey City, London, Los Angeles, Manila, Minneapolis, Singapore, Summit (NJ), Stamford (CT), and Tokyo.www.seaburycapital.com