Seabury Solutions To Implement ALKYM For Latin American Wings
Chilean Airline Selects Seabury Solutions' Industry-Leading Software to Carry Out the Maintenance Management of Its Growing Fleet
SHANNON, Ireland — August 2, 2017 — Seabury Solutions, a subsidiary of Seabury Capital LLC and the market leader in providing Information Technology solutions for the aviation industry, announced today the addition of Latin American Wings ("LAW") to its customer base. With the Chilean airline joining the expanding base of Alkym® solution's airline customers, the company continues to aggressively increase its global market share. The Alkym software is expected to ensure LAW's increased efficiency within the technical operations for its fleet of Boeing 737-300 aircraft.

"With an extensive implementation history and satisfied clients in over 80 counties, we provide proven quality solutions that both new and existing clients can trust," said Seabury Solutions Vice President LATAM Manuel Roche. "This cornerstone of our business for the past 15 years has fueled our growth, and with LAW coming into our customer community they will witness first-hand this philosophy."
From the latest version of Alkym, where LAW had the option to take up to 18 different modules, they decided to begin with the 7 core Engineering, Maintenance and Logistic modules. Each client can select the modules that suit current needs and be assured further integration is ready when they need it.
Andrés Dulcinelli, General Manager of Latin American Wings, commented: "Our projected growth plans required that we incorporate a solution to perform the maintenance management of our aircraft in an efficient way. This led us to choose Alkym, a world-class software that not only meets our current needs, but will also accommodate the company's future growth with regards to new aircraft models and the incorporation of a new fleet."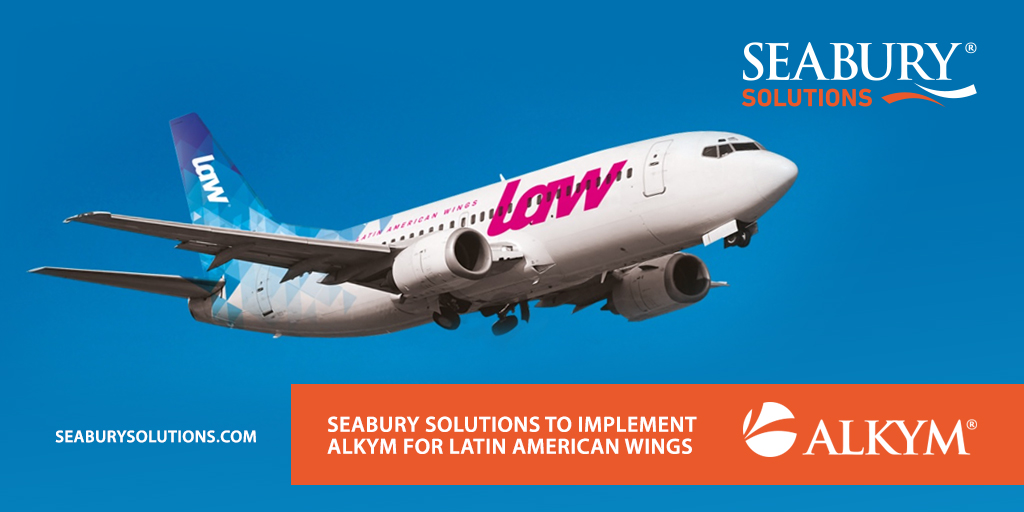 ABOUT LATIN AMERICAN WINGS
LAW began operations in January 2016, with the opening of its first route to the Dominican Republic. It currently covers the destinations of Lima, Punta Cana, Caracas, Isla Margarita, Port-au-Prince, Mendoza and in the domestic market, Concepción and Puerto Montt. The company has a fleet of five Boeing 737 aircraft. The airline transported more than 30,000 passengers last year and is in the process of expansion in Latin America. Since February, LAW began operating in the cargo transportation business, through its subsidiary LAW Cargo, covering each of its current destinations. LAW is a member of the Chilean Association of Airlines A.G. (ACHILA), the International Air Transport Association (IATA) and the International Civil Aviation Organization (ICAO). www.vuelalaw.com
ABOUT SEABURY SOLUTIONS
Seabury Solutions is a subsidiary of Seabury Capital LLC and the market leader in providing Information Technology solutions for the aviation industry. With more than 10 years of experience and specialization in the development and implementation of world-class software solutions for aviation, Seabury Solutions has an unmatched reputation as a provider of cost-effective solutions in the industry. www.seaburysolutions.com
ABOUT SEABURY CAPITAL
Seabury Capital LLC ("Seabury Capital") operates a number of specialty finance, investment banking, technology and software companies with a core focus anchored in aviation, aerospace & defense, maritime, and financial services/technology. Since its founding in 1996, Seabury Capital has historically been the investment holding company of its founder, John E. Luth, operating as a venture capital firm with ownership stakes in software and asset management businesses servicing the aviation and travel industries. Within the last few years, Seabury Capital has expanded its portfolio by investing in early stage startup companies within the financial technology industry and structured investment products. In addition, Seabury Capital owns and operates FINRA regulated investment banking services firms in the U.S. and U.K. serving external clients as well as assisting the companies in which Seabury Capital has invested. Seabury Capital has operations in New York, Jersey City, Summit (NJ), Los Angeles, Minneapolis, Stamford (CT), Amsterdam, Berlin, Cordoba, Dublin, Durban, Hong Kong, London, Manila, Singapore, and Tokyo. www.seaburycapital.com