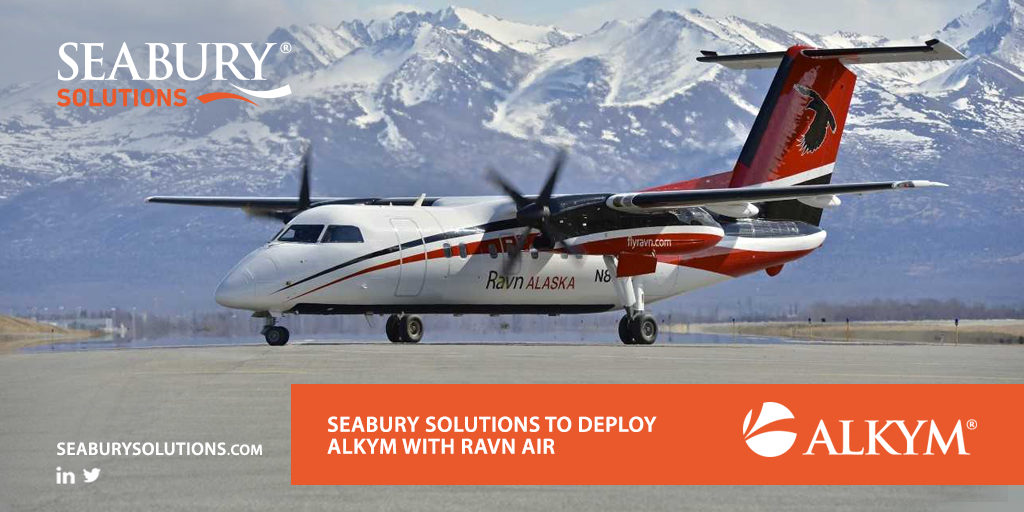 North American Airline Group Joins Alkym's Fast-Growing User Base to Support its Future Growth Plans Through Upgraded IT Solutions      
NEW YORK – September 13, 2018 – Seabury Solutions, a subsidiary of New York-based Seabury Capital Group LLC and the market leader in providing Information Technology solutions for the aviation industry, announced today that Ravn Air Group had selected the company's Alkym®Management and Control System for Aircraft Maintenance. Alkym is expected to streamline and increase the operating efficiency of the airline group's growing fleet, ensuring a substantial return on investment.
"We are delighted to welcome Ravn Alaska to the growing customer base of Alkym users," said Seabury Solutions SVP, Head of Sales & Marketing, John Barry. "When we started the process almost 2 years ago, the functional requirement list required to meet their growth plans ensured we were competing against the other established systems on the market. It is extremely pleasing to come out on top in such cases."
George Nichols, Ravn Air Group's CIO, commented: "Over the past 24 months, we ran a competitive selection process to replace several existing systems used across our technical departments. We wanted to streamline the process to ensure a truly integrated outcome. Alkym was the clear leader in the market to meet all the challenges we anticipate."
The comprehensive implementation process has already begun, which will see Seabury Solutions provide the Ravn Air team the expertise in configuration and training of the system for the three organizations under the group. The pre-implementation workshop has already been completed to ensure the most effective deployment of the solution, tailored to the airline's requirements. On a phased basis, each of the airlines in the group will go live with Alkym.
ABOUT RAVN AIR GROUP
Ravn Air Group consists of Corvus Airlines, Hageland Aviation, and Frontier Flying Service. Combined the companies have been flying for about as long as Alaska has been a state. Corvus Airlines trading as Ravn Alaska can be traced back to 1948. The group fleet consists of nearly 70 aircraft (Beech 1900 & Cesna), which serve almost 100 destinations across the Last Frontier. www.flyravn.com
ABOUT SEABURY SOLUTIONS
Seabury Solutions is a subsidiary of Seabury Capital Group LLC and the market leader in providing Information Technology solutions for the aviation industry. With more than 15 years of experience and specialization in the development and implementation of world-class software solutions for aviation, Seabury Solutions has an unmatched reputation as a provider of cost-effective solutions in the industry. Three out of the four largest airlines in the world use the performance management systems built by Seabury Solutions. www.seaburysolutions.com
ABOUT SEABURY CAPITAL GROUP
Seabury Capital Group LLC ("Seabury Capital") operates a number of specialty finance, investment banking, technology and software companies with a core focus anchored in aviation, aerospace & defense, maritime, and financial services & technology. Since its founding in 1995, Seabury Capital has taken ownership stakes in software and asset management businesses servicing the aviation and travel industries. Within the last few years, Seabury Capital has expanded its portfolio by investing in early stage startup companies within the financial technology industry and structured investment products. In addition, Seabury Capital owns and operates FINRA and FCA regulated investment banking services firms in the U.S. and U.K., respectively, serving external clients as well as assisting the companies in which Seabury Capital has invested. Seabury Capital has operations in New York, Amsterdam, Berlin, Chicago, Cordoba, Dallas, Dublin, Durban, Edison (NJ), Hong Kong, Houston, Jersey City, London, Los Angeles, Manila, Minneapolis, Singapore, Summit (NJ), Stamford (CT), and Tokyo.www.seaburycapital.com