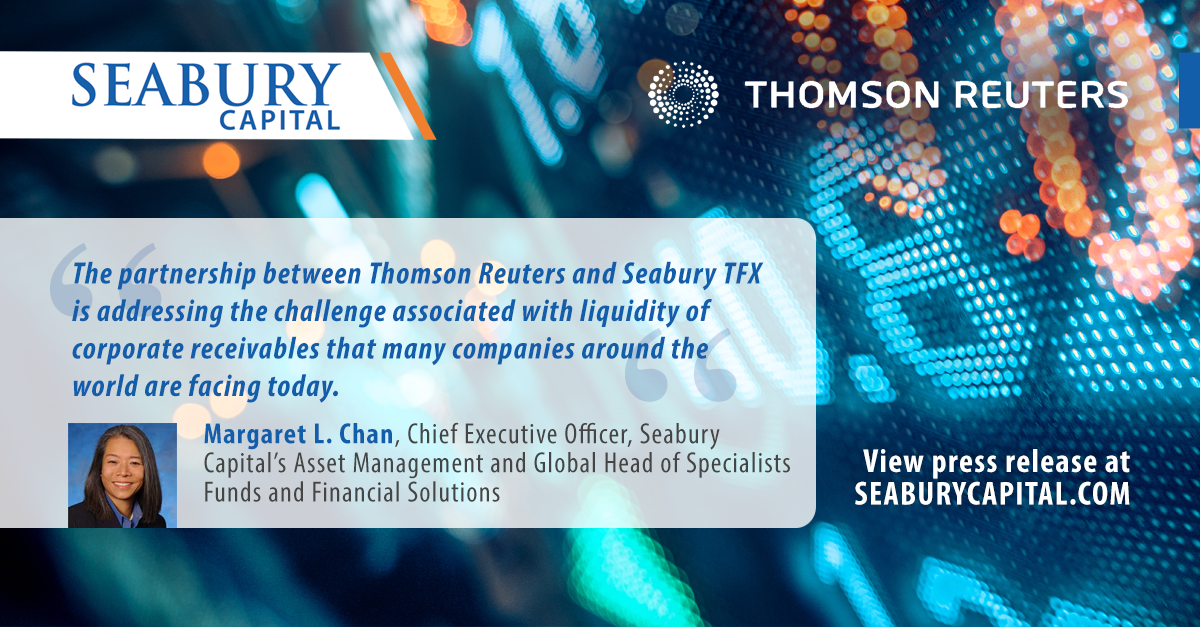 Partnership Delivers the First of Its Kind Platform for Trading of Accounts Receivable by Institutional Investors and Corporate Treasurers
NEW YORK – September 17, 2018 – Seabury TFX (HK) Limited ("STFX"), a Hong Kong- and U.S.-based provider of trade finance solutions to supply chains around the world and a subsidiary of New York-based Seabury Capital Group LLC, announced today a new partnership with Thomson Reuters (NYSE: TRI) which aims to develop a new marketplace for trade finance in Asia.
The first of its kind platform for trading of accounts receivable by institutional investors and corporate treasurers, the Receivables Board app will allow both primary and secondary trading, while developing a network of qualified corporates and investors.
"The partnership between Thomson Reuters and Seabury TFX is addressing the challenge associated with liquidity of corporate receivables that many companies around the world are facing today," said Margaret L. Chan, Chief Executive Officer, Seabury Capital's Asset Management and Global Head of Specialists Funds and Financial Solutions. "There is a significant focus on utilizing open technology standards to spur the transparency and innovation to provide the flexibility which the trade finance industry increasingly needs to remain competitive in a complex, global business landscape."
According to an Asian Development Bank survey*, there is a gap in global trade finance amounting to $1.6 trillion annually on untapped potential in trade, unrealized economic value, and lost opportunity. Treasurers need to manage working capital in a fast-changing market under an "expensive, high-risk low-return" financial world, while investors tend to look for "special niches" – instruments that could deliver adjusted return prospects, structure and risk.
Seabury TFX Chief Executive Officer Robert Lin further added: "The companies can now access the Receivables Board through the world-renown Eikon platform, which allows corporate treasurers to gain liquidity on their account receivables, while enabling investors to track receivables from purchase to maturity."
Stuart Brown, Head of Asia Customer Proposition, Thomson Reuters, commented: "We are delighted to enter into this strategic partnership with Seabury Capital offering significant value for customers in the trade finance market. The launch of the Receivables Board App on our Eikon platform demonstrates the openness of our technology and the ability for our partners to quickly innovate to solve real customer needs. This solution will be of incredible benefit to Corporate Treasurers looking to address their Trade finance requirements and extends our wide range of services for Corporates including FXall, Eikon Auctions and World-Check."
Lin concluded: "This solution, coupled with Thomson Reuters' wide range of solutions such as World-Check and FXall, will provide the ability to supplement KYC and forex to benefit both treasurers and investors."
*Asian Development Bank 2017 Trade, Finance Gaps, Growth & Jobs Survey
ABOUT THOMSON REUTERS
Thomson Reuters is the world's leading source of news and information for professional markets. Our customers rely on us to deliver the intelligence, technology and expertise they need to find trusted answers. The business has operated in more than 100 countries for more than 100 years. Thomson Reuters shares are listed on the Toronto and New York Stock Exchanges. For more information, visit www.thomsonreuters.com
ABOUT SEABURY TFX
Seabury TFX ("STFX") is a Hong Kong- and U.S.-based company providing trade finance solutions to supply chains around the world. STFX's unique platform harnesses the power of data and technology to originate trade finance transactions. STFX is a subsidiary of Seabury Capital Group LLC ("Seabury Capital"), a global firm founded in 1995. www.seaburytfx.com 
ABOUT SEABURY CAPITAL GROUP
Seabury Capital Group LLC ("Seabury Capital") operates a number of specialty finance, investment banking, technology and software companies with a core focus anchored in aviation, aerospace & defense, maritime, and financial services & technology. Since its founding in 1995, Seabury Capital has taken ownership stakes in software and asset management businesses servicing the aviation and travel industries. Within the last few years, Seabury Capital has expanded its portfolio by investing in early stage startup companies within the financial technology industry and structured investment products. In addition, Seabury Capital owns and operates FINRA and FCA regulated investment banking services firms in the U.S. and U.K., respectively, serving external clients as well as assisting the companies in which Seabury Capital has invested. Seabury Capital has operations in New York, Amsterdam, Berlin, Chicago, Cordoba, Dallas, Dublin, Durban, Edison (NJ), Hong Kong, Houston, Jersey City, London, Los Angeles, Manila, Minneapolis, Singapore, Summit (NJ), Stamford (CT), and Tokyo.www.seaburycapital.com