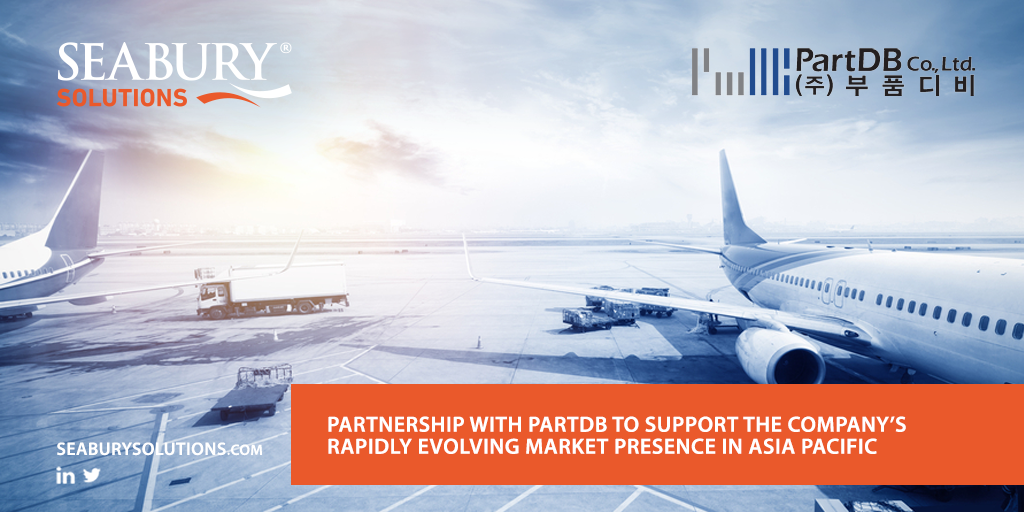 Partnership with PartDBSupports the Company's Rapidly Evolving Market Presence in the Republic of Korea, Further Strengthening the Alkym Solution's Leading Position in Asia Pacific
NEW YORK – September 25, 2018 – Seabury Solutions, a subsidiary of New York-based Seabury Capital Group LLC and the market leader in providing Information Technology solutions for the aviation industry, announced a recently established partnership with PartDB Co., Ltd. ("PartDB"), the Republic of Korea-based leading provider of Engineering IT and VR solutions, as part of continued strategy to expand its global client base.
The partnership is aimed to grow the companies' Asia Pacific customer base for Seabury Solutions' line of software solutions that enable airline customers to digitally transform operations and enhance their ability to meet demand from the fast-expanding aviation market.
Building rapidly upon the partnership, the company unveiled two new customers in the region for its Alkym solution:
Air Busan, South Korea's largest low-cost carrier ("LCC") and a subsidiary of Asiana Airlines, which became the region's Alkym launch customer; and
Korea Aviation Engineering & Maintenance Service Ltd ("KAEMS"), a subsidiary of Korean Aerospace Industries ("KAI"), Seoul's first aircraft maintenance, repair and overhaul ("MRO") company.
"When you work with the best-in-class, as we do through our partnership with PartDB, the growth opportunities will follow in any region," said Seabury Solutions Regional Sales Manager, APAC, Carlos Bianchi. "In collaboration with PartDB, we successfully completed the most rigorous tender processes competing with all the tier 1 vendors in this market. We proved to both Air Busan and KAI that Alkym was the ideal solution for their operations."
Air Busan has begun the implementation of Alkym, with the airline incorporating eleven Alkym modules to manage its aircraft technical operations. KAEMS' Alkym implementation will form the backbone of the technology the company intends to utilize for MRO work on a local LCC due to begin operations in the fourth quarter of 2018.
"We have been working closely with Seabury Solutions' APAC sales team over the past years to create this foundation," commented PartDB Chief Executive Officer Jinsang Hwang. "The dedication enabled us to announce the largest LCC airline in the region, Air Busan, as Alkym's launch customer, and establish the working environment of KAEMS. There were many global players seeking this business but our local presence coupled with the best-of-breed solution proved to be the winning formula."
ABOUT PARTDB CO, LTD.
PartDB Co, Ltd. ("PartDB") was established resulting from think-tanks in KAIST (Korea Advanced Institute of Science and Technology) in 1999. Its shareholders belong to experts groups of CAD and PLM of Korea. PartDB has actively worked in the Information technology field of key industries such as national defense and Power Plant Industry. Major products and core technologies such International standard information management system, configuration management system, industrial VR/XR solutions are fundamental base of the business. http://www.partdb.com/english.htm
ABOUT SEABURY SOLUTIONS
Seabury Solutions is a subsidiary of Seabury Capital LLC and the market leader in providing Information Technology solutions for the aviation industry. With more than 15 years of experience and specialization in the development and implementation of world-class software solutions for aviation, Seabury Solutions has an unmatched reputation as a provider of cost-effective solutions in the industry. Three out of the four largest airlines in the world use the performance management systems built by Seabury Solutions. www.seaburysolutions.com
ABOUT SEABURY CAPITAL GROUP
Seabury Capital Group LLC ("Seabury Capital") operates a number of specialty finance, investment banking, technology and software companies with a core focus anchored in aviation, aerospace & defense, maritime, and financial services & technology. Since its founding in 1995, Seabury Capital has taken ownership stakes in software and asset management businesses servicing the aviation and travel industries. Within the last few years, Seabury Capital has expanded its portfolio by investing in early stage startup companies within the financial technology industry and structured investment products. In addition, Seabury Capital owns and operates FINRA and FCA regulated investment banking services firms in the U.S. and U.K., respectively, serving external clients as well as assisting the companies in which Seabury Capital has invested. Seabury Capital has operations in New York, Amsterdam, Berlin, Chicago, Cordoba, Dallas, Dublin, Durban, Edison (NJ), Hong Kong, Houston, Jersey City, London, Los Angeles, Manila, Minneapolis, Singapore, Summit (NJ), Stamford (CT), and Tokyo.www.seaburycapital.com