Company Continues to Advance Growth as Leading Provider of Maritime-Centric Investment Banking & Advisory Services to Global Trade & Transportation Clients         
NEW YORK – May 1, 2018 – Seabury Maritime PFRA ("SMPFRA"), a premier investment banking and consultancy firm focused on global trade and transportation, and a division of New York-based Seabury Capital LLC ("Seabury Capital"), announced today the launch of a new website: www.seaburypfra.com, providing comprehensive information on the company's service offerings.
"The global trade and transportation industry is undergoing rapid transition and business leaders are seeking out solutions to enable their companies to adapt for success and to maintain sustained competitive advantage," said Seabury Capital Chairman, President & CEO John E. Luth.
SMPFRA's integrated platform, which delivers an end-to-end solution for maritime-oriented transportation investment banking and consultancy needs, capitalizes on the company's distinctive processes and methodologies, as well as core competencies deeply rooted in the maritime, ports, transportation, and logistics sectors. The platform also provides industry-leading market databases and business intelligence tools across all segments of the cargo industry.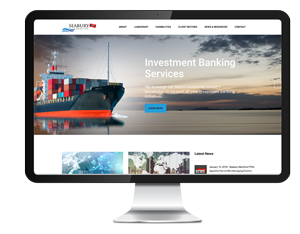 "The new website is designed to effectively showcase our extraordinary team of professionals who have deep industry expertise, unrivaled capabilities, and in-depth understanding of the underlying competitive economics that drive strategic investments and decision-making in global trade and transportation," added Seabury Maritime SMPFRA President & CEO Edward M.A. Zimny. "Through a wide array of focused, custom-based service offerings, the SMPFRA team constitutes an organization dedicated to leveraging strategic advisory skills and the ability to implement based on client requirement, skillset, experience, and ability to deliver results."
Patrick Henry Dowling, Seabury Capital's Global Head of Investment & Merchant Banking and President & CEO of Seabury Corporate Finance, commented: "SMPFRA has been the firm that transportation business leaders come to for insights and best-in-class solutions. We find strategic value-add for our clients across operating boundaries with our global branding, core competencies, and industry expertise."
SMPFRA had been engaged in assignments for a variety of stakeholders worldwide, including international and domestic corporations, ocean, air, motor & rail carriers, port authorities, terminal operators, labor unions/management, financial institutions, beneficial cargo owners, infrastructure developers, government agencies, and legal counsel.
To learn more about SMPFRA's service offerings and capabilities, visit www.seaburypfra.com or access it via Seabury Capital's corporate website at www.seaburycapital.com.
ABOUT SEABURY MARITIME PFRA
Seabury Maritime PFRA ("SMPFRA") is a premier investment banking and consultancy firm focused on global trade and transportation. Our team has developed a thorough understanding of the underlying competitive economics that drive strategic investments and decision-making, while assisting companies operationally to adapt for success and maintain sustained competitive advantage. The company was formed as a maritime-centric entity by Paul F. Richardson Associates ("PFRA") and Seabury Capital LLC ("Seabury Capital") to offer a suite of comprehensive industry solutions utilizing Seabury Capital's existing worldwide operating platform. www.seaburypfra.com
ABOUT SEABURY CAPITAL
Seabury Capital LLC ("Seabury Capital") operates a number of specialty finance, investment banking, technology and software companies with a core focus anchored in aviation, aerospace & defense, maritime, and financial services & technology. Since its founding in 1996, Seabury Capital has historically been the investment holding company of its founder, John E. Luth, operating as a venture capital firm with ownership stakes in software and asset management businesses servicing the aviation and travel industries. Within the last few years, Seabury Capital has expanded its portfolio by investing in early stage startup companies within the financial technology industry and structured investment products. In addition, Seabury Capital owns and operates FINRA and FCA regulated investment banking services firms in the U.S. and U.K., respectively, serving external clients as well as assisting the companies in which Seabury Capital has invested. Seabury Capital has operations in New York, Jersey City, Summit (NJ), Los Angeles, Minneapolis, Stamford (CT), Amsterdam, Berlin, Cordoba, Dublin, Durban, Hong Kong, London, Manila, Singapore, and Tokyo. www.seaburycapital.com